The second letter
I found this leaflet at BOY 2012 in Luton and I checked the story behind Because I took a video and pictures of this at the show and put them on FB and youtube. After this I got a private letter from the joint manager of Th Bulldog Club Inc.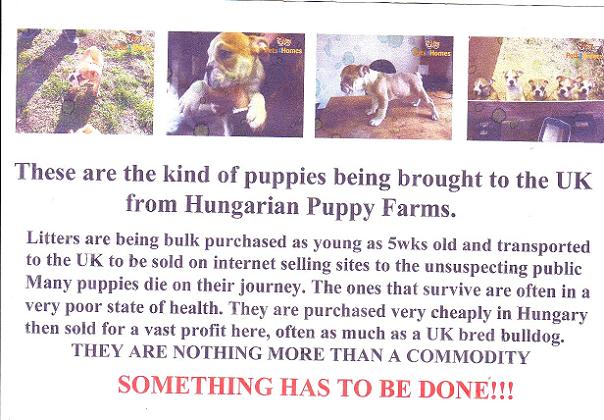 And we started a friendly conversation about this issue. You can see here the official version in three parts...
Show Managers Mr A & Mrs K Hayward
2 Irons Way, Romford, Essex RM5 3RJ
Email : bulldoginc@hotmail.co.uk
Tel : 01708 760553
27th November 2012
Dear Mr D Luvszandagva,
Thank you for your letter dated 26th November 2012 which outlines the unauthorised leaflet that was seen at our show on Saturday 24th November. I am unable to comment fully on the content of this leaflet as it had not been seen by either show manager or club secretary. We did not have any knowledge of its existence until I saw the blog yesterday on Facebook and You Tube. I am led to believe that this leaflet made reference to Hungarian Puppy Farming. I would like to categorically state that this leaflet was not authorised to be circulated at our show and neither did the Secretary Mr C Carberry or the joint show managers Mr A & Mrs K Hayward, had any knowledge of its existence and furthermore would not have given authority for this type of material to be circulated at our show. The Bulldog Club Incorporated completely disassociates itself from this leaflet for the reasons stated above and is saddened that our prestigious show has been used to distribute such material and caused upset for all parties concerned. The Bulldog Club Incorporated does not condone the singling out of any country, nation or individual person. We have now put more stringent practices in place to try and ensure that this type of incident does not happen again. We will be speaking to other Bulldog Clubs to also make them aware so as to avoid other clubs being put into the awful situation that we now find ourselves in. I would like to make reference to the video that was put on 'You Tube're the show on Saturday and feel that it would have been appropriate to have approached The Bulldog Club Incorporated before this was made public to gain our response, as we too have now been made victims of this incident and it has tarnished our club when, we like you were completely innocent and had no part to play in this leaflet. We would request that any association with The Bulldog Club Incorporated is removed from your video as it suggests that the club were promoting this material when this was clearly not the case. I trust that this had clarified our position with regards to this unfortunate issue and that our good relationships may long continue and grow from strength to strength.
Kind Regards
Mr A & Mrs K Hayward (show managers) The Bulldog Club Incorporated (founded 1875) www.bulldog-inc.com